Home Studio Essentials: Setting Up Your Space for Music Recording
Set Up Your Home Studio
1. Choose the Right Space
The first step in setting up your home studio is choosing the right space. You'll need a room that is quiet, free from distractions, and has enough space for your equipment. If you have the option, it's best to choose a room that has good natural light.
2. Soundproof Your Room
If you live in a noisy area, you'll need to soundproof your room to reduce the amount of outside noise that comes in. You can do this by using soundproofing curtains, acoustic foam, or a soundproof door.
3. Choose the Right Equipment
The next step is choosing the right equipment for your home studio. You'll need to decide what kind of music you want to make and what kind of equipment you need to create that music. Some essential pieces of equipment for a home studio include a computer, a DAW (digital audio workstation), a microphone, and speakers.
4. Set Up Your Equipment
Once you've chosen your equipment, it's time to set it up. Make sure you have enough space for everything and that you're comfortable with the way the equipment is positioned. You may also want to consider investing in a studio monitor to help you hear your music more accurately.
5. Get Organized
It's important to stay organized in your home studio so that you can find everything you need quickly and easily. Create a system for storing your files, equipment, and paperwork. You may also want to create a schedule for yourself so that you can stay on top of your work.
6. Start Creating Music!
Once your home studio is set up, it's time to start creating music! Experiment with different sounds, instruments, and techniques. Don't be afraid to make mistakes – that's how you learn! The most important thing is to have fun and enjoy the process.
Make Music in Your Own Space
Now that you've set up your home studio, it's time to start making music! Here are a few tips to help you get started:
Set aside time each day to work on your music. Even if it's just for a few minutes, it's important to create a habit of working on your music regularly.
Find a community of musicians to support you. There are many online forums and communities where you can connect with other musicians and share your work.
Don't be afraid to experiment. The best way to learn is by experimenting with different sounds, instruments, and techniques.
Have fun! The most important thing is to have fun and enjoy the process of making music.
With a little effort, you can create your own home studio and make music that you love. So what are you waiting for? Start creating today!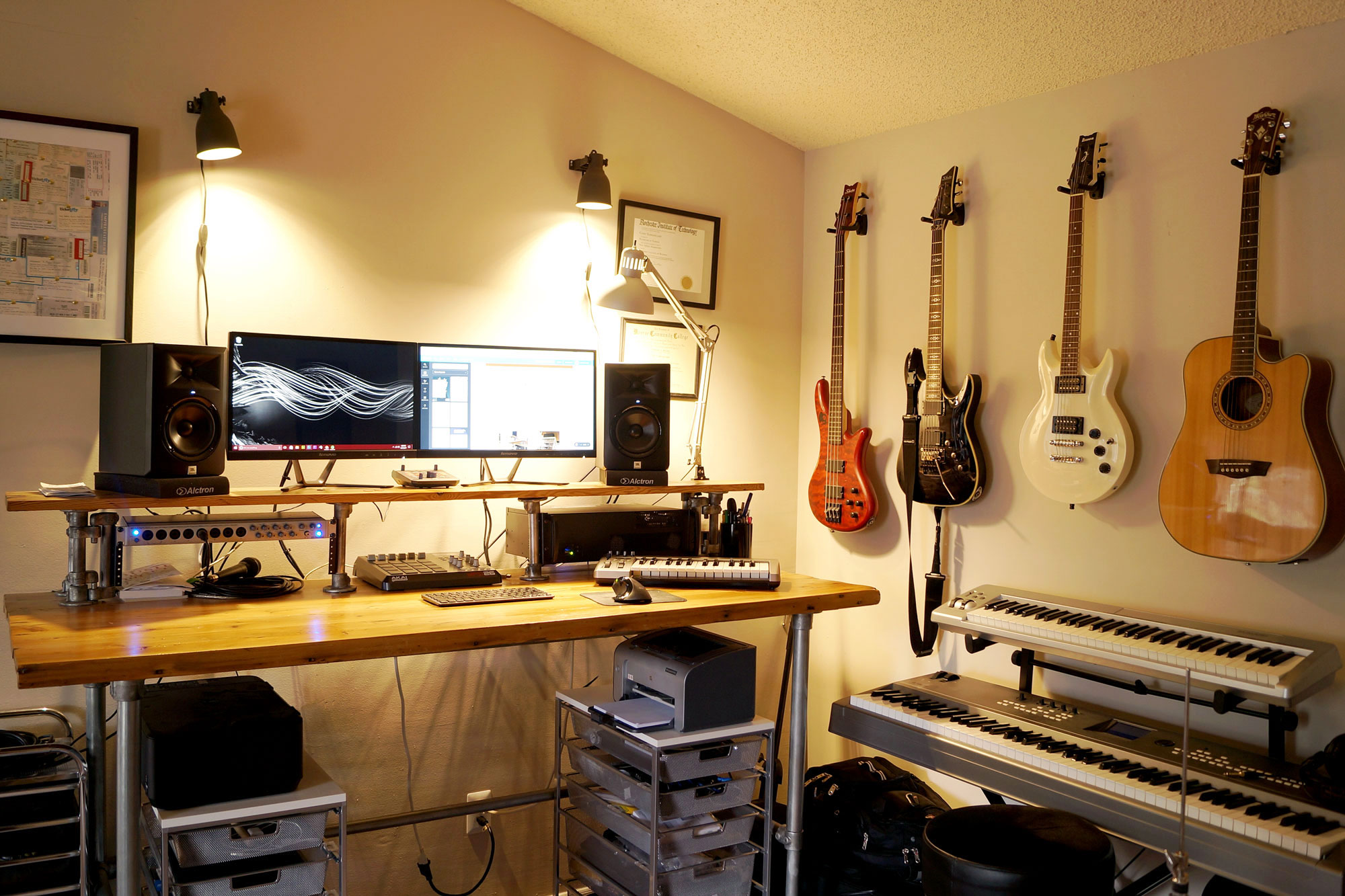 The 9 Home Recording Studio Essentials A ComputerIdeally a Laptop A DAWAudio Interface Combo A Few Essential Microphones for Your Main Instruments ClosedBack Headphones to Monitor Your Playing Studio Monitors to Hear Your Mixes XLR Cables to Connect All Your Gear A Stand for Your Microphones A Pop Filter for Recording Better Vocals1 Martin Kristiansen My name is Martin Kristiansen and Im the founder and chief editor of HomeStudioIdeascom Ive been playing Recording and producing music for the last 10 years So youve decided its time to get serious about your music and invest in a home Recording studio Good for youHow to Set Up a Home Recording Studio Written by MasterClass Last updated Dec 21 2021 3 min read With a DIY Recording studio you can produce highquality records Learn how to set up
your own Recording studio at home With a DIY Recording studio you can produce highquality records Learn how to set up your own Recording studio at home1 Computer Start by picking up a reliable computer which will serve as the backbone for your home studio Look for something fast with decent storage and capable of easily processingTake a deep breath Were here to help Its fun to look at perfect and beautiful home studios on Instagram but dont think your home Recording studio needs to look like your favorite producers home Recording studio In reality you only need a few essential things to get started You can always add more over timeOur Basics of Home Recording series takes you from start to finish through the process of assembling a basic home studio Recording various instruments and vocals
and getting things ready to mix and finalize in your DAW Recording software Setting Up Your Studio with Monitors and Acoustic Treatment In this post we explore the basics of To set up a basic home music studio you will need the following equipment a computer audio production software an audio interface a MIDI controller headphones or speakers acoustic room treatment as well as microphones cables and stands Well review these in detail below 1 A computerA home Recording studio is simply a space in your home where you can record your own music or collaborate with others Home studios come in all shapes and sizessome people use them to write and record simple demos while others use them to create entire finished albums
Setting up a home studio can be a great way to make music on your own terms. With a little planning and effort, you can create a space that is both comfortable and productive. So what are you waiting for? Start creating today!